Detroit Red Wings and former St. Cloud State forward Mark Hartigan will be rooting for his alma mater during the NCAA tournament. But when told his Huskies were in the same bracket as top seeded Michigan, he told the Detroit Free Press:
"Shocker," he said. "When we were in St. Cloud, we were rated higher than Michigan and were supposed to play Michigan at a neutral site, and it was at the Yost Arena."

The Huskies lost, 4-2, to the Wolverines, and Hartigan apparently hasn't gotten over it.

"Last college team I played against," he said. "I hope they lose, 8-0."
Hey Mark, remember this?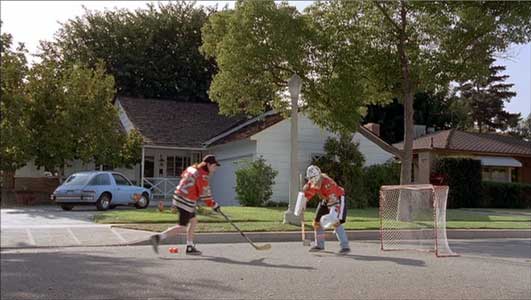 Denied! Chokes on the open net!
If Hartigan hadn't choked on the open net during a third period shorthanded breakaway–which would have tied the game 3-3–perhaps the outcome may have been different. Oh yeah, lets not forget the waived off goal, either, due to the SCSU player having a foot in the crease. So that's two chances blown.
Now then, lets clear a few things up. First off, MICHIGAN was the higher rated seed in 2002, not SCSU as Hartigan claims. The Wolverines entered the NCAA tourney as the #4 seed and SCSU was the #5 seed. On top of that, Michigan was the host school for the West Regional, so they automatically play at home. Remember, too, this was still back when the tournament was comprised of just 12 teams and two regionals, so it's not like there were a lot of options on where to place teams.
In 2001, however, St. Cloud DID face Michigan on a neutral site at the West Regional in Grand Rapids. And St. Cloud WAS the higher seed. And St. Cloud got a first round BYE. And MICHIGAN won. I suppose he'll complain Grand Rapids is like "Yost West" or something. Before any SCSU fans go claiming just that, remember that Colorado College defeated us in Grand Rapids during the 2005 Midwest Regional final, and they did it by overcoming a 3-0 deficit, so it's not impossible.